Preparation: To pair your Mangotek smart device with Amazon Alexa, you must firstly set up your smart devices within the Mangotek Smart app and sign up an account. Your smart device should be set up with your account, and will be visible within the Home Screen of the Mangotek Smart app. Once your smart devices have been set up, follow the below steps to link your Mangotek smart device with Amazon Alexa.
1. Download and install the Amazon Alexa app from the App Store or Google Play Store, and open the Amazon Alexa application on your smart phone or device.
Select the Menu icon   on the top left corner, then select Skills & Games. 

Search for Mangotek Home, and tap the Mangotek Home skill. 
Tap on Enable to Use.
Select your country, then enter the same email and password that you are using with the Mangotek Smart app, then tap Log In. 
5. You should receive a notification similar to below, indicating that your Mangotek Smart account has been successfully linked with Amazon Alexa. Close the window by tapping the X icon on the top right corner of the screen.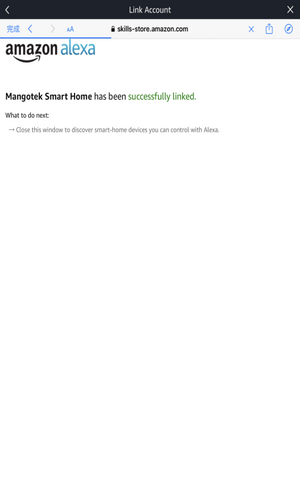 6. Your Amazon Alexa app should automatically discover any Mangotek Smart devices as shown below.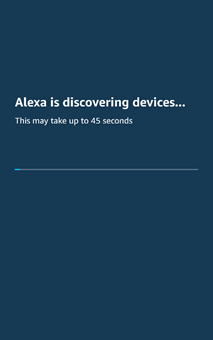 7.If any devices has been discovered, you will receive a prompt as shown. To choose which device you would like to set up, tap Choose Device.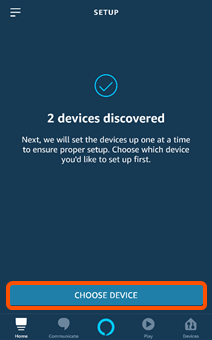 8.The devices that you have set up on the Mangotek Smart app will appear on this screen. Select the device you would like to pair with Amazon Alexa, and tap Set Up Device.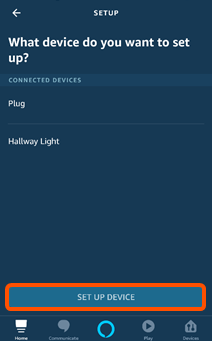 If you have already added the Mangotek Home skill on Amazon Alexa, and would like to add additional Mangotek smart devices into your Amazon Alexa app, please follow the below steps. 
On the Amazon Alexa Home screen, tap Devices. 

You will be prompted with a screen as shown below. Select the + icon on the top right corner of your screen. 

A list of devices will display - select the smart device from the list that you are setting up yourMangotek Smart device with Amazon Alexa. 
A screen showing the brands of smart products will be displayed, scroll to the bottom of the list and select Other. It will now discover the smart device you would like to add; to continue, please see Steps 7-9 as outlined above. 

Once you have successfully linked your Mangotek smart device with Amazon Alexa, you can give voice commands for your smart device. You can begin a voice command by saying either 'Hey Alexa' or 'Alexa', then completing the sentence with a request. Please see the below for some examples on what voice commands you can give to Alexa. 
Use Alexa Echo to control Mangotek Support device
 1. Make sure the device name is in English, and don't use any special character.
 Correct names are like lamp, switch, my switch etc.
 2. To control Mangotek Support device with voice command;
 For example: Alexa, turn on fan.
Voice Command Instructions:
The wake up word, "Alexa" is used to wake up Echo speaker. Say the wake up word and you will see blue light flashing.
Continue to say 'Turn on/off [device name]' to turn on/off a device
"fan" is the device name.
 3. Other commands for reference.
Echo supports other common commands, such as:
Alexa, turn on my device.
Alexa, turn off my device.
Alexa, turn my device on.
Alexa, turn my device off.
Alexa, put my device on.